On Monday night at about eight-thirty, this huge storm knocked out our power. It wasn't restored until three AM Wednesday morning. The entire UMSL campus was actually closed on Tuesday, because of the blackout. That sure didn't bug me, because I had an anthropology exam that day.

Yesterday at work I had seven kids all by myself. They did get a little fussy, but it was nothing that I couldn't handle (although one kid was teething).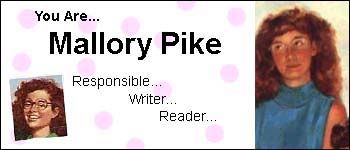 Which Member of The Baby-Sitters Club Are You?